Artista multidisciplinar y de larga proyección Artistica, Oleos, Acuarela, Pastel, Grabado, Ilustracion…..etc…
Hay obras en La Biblioteca Nacional de Madrid, Museo de Bellas Artes de San Fernando de Madrid, Congreso de los Diputados de Madrid, Museo Municipal de Logroño, Museo Municipal de Santander, Ayuntamiento de Santander, Museo Sakartvelo en Georgia, Museo Gmund Schloss en Austria, Museo del Quijote en Santo Domingo…….etc,  diversas Colecciones privadas en Washington…etc.
Diploma a la Trayectoria  Artistica del Grupo ProArte y Cultura.

Multidisciplinary artist with a long projection Artistica, Oils, Watercolor, Pastel, Engraving, Illustration ….. etc …
There are works in the National Library of Madrid, Museum of Fine Arts of San Fernando in Madrid, Congress of Deputies of Madrid, Municipal Museum of Logroño, Municipal Museum of Santander, Santander City Council, Sakartvelo Museum in Georgia, Gmund Schloss Museum in Austria , Don Quixote Museum in Santo Domingo ……. etc, various private collections in Washington … etc.
Diploma to the Artistic Career of the ProArte y Cultura Group.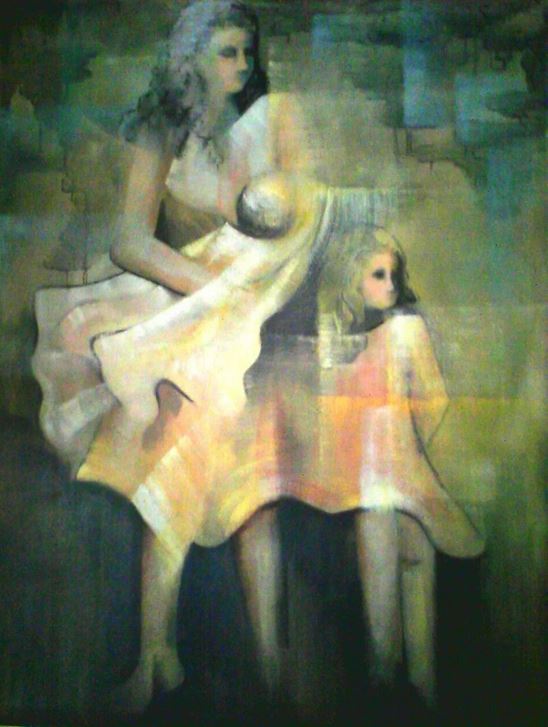 www.dagaro-group.gallery/carmen-de-la-lastra

*Colección: Condes de Limbur-Stirum. Bélgica – 2020.
*Retrato de Don Duarte, para la colección de SS.AA RR de los Duques de Braganza, Cintra (Portugal) 2020.
*MUSEO CASTILLO DE GMÜND (AUSTRIA) Archiduque Andrés Salvador de Habsburgo-Lorena con Toisón de oro- 2019
*Retrato del Archiduque Andrés Salvador de Habsburgo-Lorena- Colección del ArchiduqueAndrés Salvador de Habsburgo-Lorena – 2019
*Retrato del principe David Bagratión. Colección GPAYC Principe Bagratión de Georgia. Julio 2019
*MUSEO CASTILLO DE GMÜND (AUSTRIA) Archiduquesa Alícia Hasburgo – Lorena/2019
*Casa Museo El Romeral. Madrid. Retrato 2018
*Retrato de S.M. la reina. Colección: GPAYC principe Bagratión de Georgia. Julio 2018
* En el Museo PALAST HOHENEMSS en Austria para la colección: Príncipes de Waldburg-Zeil. Retrato de S.M. el rey- 2017
*MUSEO MAYTE SPINOLA- Marmolejo (Jaen) España 2017 – «El nacimiento de Eros».
*MUSEO CASTILLO DE GMÜND (AUSTRIA)- El cuadro Abadón (el ángel del Apocalipsis) 2015 .
*Museo M. de Nazarovo – Siveria – Rusia 2011

* Collection: Counts of Limbur-Stirum. Belgium – 2020.
* Portrait of Don Duarte, for the collection of SS.AA RR of the Dukes of Braganza, Cintra (Portugal) 2020.
* GMÜND CASTLE MUSEUM (AUSTRIA) Archduke Andrés Salvador de Habsburgo-Lorena with Golden Fleece- 2019
* Portrait of Archduke Andrés Salvador de Habsburgo-Lorena- Collection of Archduke Andrés Salvador de Habsburgo-Lorena – 2019
* Portrait of Prince David Bagration. GPAYC Collection Principe Bagratión of Georgia. July 2019
* GMÜND CASTLE MUSEUM (AUSTRIA) Archduchess Alícia Hasburgo – Lorraine / 2019
* El Romeral House Museum. Madrid. Portrait 2018
* Portrait of H.M. the Queen. Collection: GPAYC Prince Bagration of Georgia. July 2018
* At the PALAST HOHENEMSS Museum in Austria for the collection: Princes of Waldburg-Zeil. Portrait of H.M. the king- 2017
* MAYTE SPINOLA MUSEUM- Marmolejo (Jaen) Spain 2017 – «The birth of Eros».
* GMÜND CASTLE MUSEUM (AUSTRIA) – The Abaddon painting (the angel of the Apocalypse) 2015.
* M. de Nazarovo Museum – Siveria – Russia 2011

19/12/2019-08/01/2020 – Expoarte GpAyC Crear y ayudar – Santan Art Gallery con Proarte y cultura – Madrid
14/10/2019- King Tower -Con al Grupo Pro Arte y cultura, GpAyC -Inaugurada por el príncipe David de Bagration y su hijo Giorgi – Tblisi. Georgia
17 y 18 de Mayo 2019 Noche de los Museos en Galeria de Arte Lopez Isaza – Santiago de Querétaro, México.- Colectiva
02/03/2018 – Waiting the Spring- Galería Josep Francesc Art Gallery – Vallada – Valencia (colectiva)
13/06/2016 – MUSEO CASTILLO DE GMÜND (AUSTRIA)- El cuadro Abadón (el ángel del Apocalipsis) ya forma parte de la colección permanente de este museo.
11/02/2015-21/02/2015- Salon Dow Jones GALERIA LOPEZ ISAZA – Monterrey – Mèxico.
05/07/2014 – 28/07/2014 GALERIA PORTAL A L'ART – Calpe – Spain
04/06/2013-17/06/2013 «LA VIDA Y LOS COLORES» – Galeria de Arte Salduba Grupo Escolà, c/Madre Vedruna, 5 – Zaragoza -España Inauguración y vernissage Martes 4 a las 19:30 (individual)
15/01/2013-28/01/2013 «LA VIDA I ELS COLORS»– Galeria d'Art Mar – Grup Escolà – Barcelona (individual).
11/05/2012 – 13/05/2012 estaré en la feria de Arte HUNTEN KUNST, Holanda. (ver más aquí)
22/11/2011 «MI QUERIDA ESPAÑA» – Museo Municipal de Nazarovo/Siberia.
15/09/2011-11/10/2011- "INSTANS" Amb Gal-ART i Baladia – (individual)
27/08/2011- 28/08/2011. Feria , «ARTS AND ANTIQUES EVENT OF THE HAGUE» La Haya – Holanda.
13/08/ 2011, Museo Municipal de Nazarovo/Siberia. ver mas aquí
10/08/2011-30/08/2011 GALART- Mataró (Colectiva)
09-08-2011 – "España – Siberia" Sede de la federación de Artistas Visuales y Plasticos de Krasnoyarsk.
Con motivo del Año de España en Rusia, se celebran en varias partes del país eventos culturales dedicados a España. Fui invitada por Ministro de Arte y Cultura del Estado Federal de Krasnoyarsk, en colaboración con la Unión de Artistas de Rusia, Sección Krasnoyarsk y por José S. Ocón curador para representar junto a otros 8 compañeros la pintura contemporanea Española Ver mas Aquí
14-23/12/2010 – HOTEL DON CARLO – ArtCo – TERRASSA (colectiva)
10-14/11/2010 – Fiarte, feria de Arte en Santo Domingo, Republica Dominicana. Stand FLAMINGO ROAD GALLERY
16/10/2010 – 15/01/2011 – «LAS PERSONAS Y SU VIDA COTIDIANA» Kunst Atelier-Galerie KONTRASTE. An der Kirche, 1 Erwitte-Horn, Westfalia- ALEMANIA,
01/07/2010-31/07/2010 – CLUB NAUTICO BARCELONA Pge. Joan de Borbo, 93 BARCELONA, ESPAÑA (colectiva).
11/06/2010 – 31/07/2010 – EXPOMUNDIAL 2010 – Flamingo Road Galery – BOGOTA, COLOMBIA
18/04/10 – 21/04/10- Feria BARCELONA ART, ADNEC- Abu Dhabi, Conference Hall B, ABU DHABI- EMIRATOS ARABES. Para ver mas Clikar AQUÍ
16/11/09 – 31/12/09 – FLAMINGO ROAD GALLERY, Avda. 27 de febrero, nº 339 Evaristo Morales SANTO DOMINGO, RD
30/06/2009 – 30-08-2009 – CAL BOSQUER , CARDEDEU ( Colectiva)
23 /04/2009 – 07/05/2009 – GALERÍA ART 22 C/ Anselm Clavé 17001 GIRONA (Colectiva)
11/03/2009 – GALERÍA BALMES BASSOLS C/Balmes 178 Barcelona
11/09/2008 – 27/09/2008 GALERÍA ESPACIO DE ARTE (Colectiva) "Artistas de Taller On Line II" (Olías del Rey)
07/06/2008-30/06/2008 GALERIA SANT POL ART (Sant Pol de mar) (individual).
17/01/2008 – 2/02/2008 GALERÍA ESPACIO DE ARTE – Olías del Rey (Individual)
15/11/2007- 8/12/2007 GALERÍA ESPACIO DE ARTE (Colectiva) "Artistas de Taller On Line" (Olías del Rey)
08/06/07 – 19/06/2007 ENLLEURAT (Mataro)
01/06/05 – 30/06/05 GALERIA MIRARTE Burjassot (Valencia) (Individual)
20/01/2005 – 16/02/2005 «LA CAIXA» Avda. el Paral.le.l BARCELONA (Individual)
20/01/05 – 24/01/05 FERIA «ARTE CUADRO» Stand Andreu Art (MADRID)
14/01/2005 – 07/02/2005 GALERÍA ANDREU-ART Miami Playa (TARRAGONA) (Colectiva, mercat d'art)
04/12/2004-07/01/2005 GALERÍA ANDREU-ART Miami Playa (TARRAGONA) (Colectiva)
6/11/2004-27-11/2004 CAJA DUERO ZAMORA (Colectiva)
09/10/2004-20/10/2004 GALERÍA SANTA CATARINA PORTUGAL «Emoçao de pintar» Exposición integrada en el proyecto «interculturalidade» programa comunitario EGUAL Intervención en el ambito «multiculturalidade» (colectiva)
30/09/04-03/10/04 FAIM Feria de arte independiente de Madrid Pabellon de la Pipa, Recinto Ferial Casa de Campo de Madrid (Avda. Portugal s/n 28011 MADRID)
17/09/04-18/10/04 "SANT LLUC" SALA ATENEU CAIXA LAIETANA (Colectiva)
Mataró – BARCELONA
07/08/2004 – 28/08/2004 GALERÍA REPRESENTARTE BARCELONA (Colectiva)
6/08/04 – 2/09/04 UNIVERSIDAD AUTONOMA DE AGUASCALIENTES MÉXICO (Colectiva)
02/08/2004 – 19/08/2004 SALA SMATA «Artistas Europeos y Americanos por la paz» Buenos Aires ARGENTINA (Colectiva)
12 /06/2004-15/07/2004 CASTILLO DE SANTA ANA Roquetas de Mar ALMERIA . (Colectiva)
14/05/04 – 01/06/04 SALA BARNA BARCELONA (Colectiva)
14/05/04-29/05/2004 CAJA DUERO ÁVILA (Colectiva)
07//05/04 – 30/05/04 SALA DEL CASAL ALIANÇA «Els Nus del Racó» Mataró – BARCELONA ( Colectiva)
30ª Feria Internacional del LIBRO, DEL AUTOR AL LECTOR día 26 de Abril. y
Exposición (del 13/4 al 9/5) de obras en la Sala Julio A. Cortázar. Buenos Aires ARGENTINA (Colectiva)
06/04/04-30/04/04 LOS LAVADEROS Sta.Cruz de Tenerife TENERIFE (colectiva)
27 /03/ 2004-30/04/2004 SALÓN HEBRAICO DEL CENTRO CULTURAL «LAS CLARAS» PLASENCIA (colectiva)
06/03/2004 CASA DE LA CULTURA LAGOS DE MORENO , Jal. «Encuentro» JALISCO – MÉXICO (Colectiva)
28/11/03-12/12/03 «GRUPO BATIK ART» SALA BARNA BARCELONA (Colectiva)
FRANKFURTER BUCHMESSE. 8-13 octubre de 2003. Recinto Ferial «Messe». Frankfurt. Stand Grupo Batik Art internacional,
Septiembre 2.003 «SANT LLUC » SALA ATENEU CAIXA LAIETANA (Colectiva) Mataró – BARCELONA
10-14 de septiembre del 2003. MAC'21. Palacio de Ferias y Congresos de MARBELLA.
03/06/03 – 30/07/03 GALERIA TORANTO Muestra de arte BARCELONA
02/06/03- 22/06/03 SALA DEL CASAL ALIANÇA Mataró BCN (Individual)
05/04/2003 – 20/04/203 ESPAI D'ART ESPAI BARCELONA (Individual)
07/04/2003 – 25/04/2003 SALA BARNA BARCELONA (Colectiva)
20/03/2003 – 04/04/2003 ESPAI D'ART ESPAI BARCELONA (Colectiva)
17/03/2003 – 04/04/2003 «GRUPO BATIK ART» BARCELONA (Colectiva)
Mayo – Junio 2.002 CASAL SANT JOSEP (Colectiva) Mataró – BARCELONA
2.002 «SANT LLUC » SALA ATENEU CAIXA LAIETANA (Colectiva)
Mataró – BARCELONA
Mayo – Junio 2.001 CASAL SANT JOSEP (Colectiva) Mataró – BARCELONA
2.001 «SANT LLUC « SALA ATENEU CAIXA LAIETANA (Colectiva) Mataró – BARCELONA
Mayo – Junio 2.000 CASAL SANT JOSEP (Colectiva) Mataró – BARCELONA
2.000 «SANT LLUC» SALA ATENEU CAIXA LAIETANA (Colectiva)
Mataró – BARCELONA
1.999 «SANT LLUC » SALA ATENEU CAIXA LAIETANA (Colectiva)
Mataró – BARCELONA
1988 a 1989 exposición permanente IMMEL Mataró – BARCELONA (Individual)

19/12 / 2019-08 / 01/2020 – Expoarte GpAyC Create and help – Santan Art Gallery with Proarte and culture – Madrid
10/14 / 2019- King Tower -With the Pro Arte y Cultura Group, GpAyC -Inaugurated by Prince David de Bagration and his son Giorgi – Tblisi. Georgia
May 17 and 18, 2019 Night of the Museums at the Lopez Isaza Art Gallery – Santiago de Querétaro, Mexico.- Collective
03/02/2018 – Waiting the Spring- Galería Josep Francesc Art Gallery – Vallada – Valencia (collective)
06/13/2016 – GMÜND CASTLE MUSEUM (AUSTRIA) – The painting Abadón (the angel of the Apocalypse) is now part of the permanent collection of this museum.
02/11 / 2015-21 / 02 / 2015- Salon Dow Jones GALERIA LOPEZ ISAZA – Monterrey – Mexico.
07/05/2014 – 07/28/2014 GALERIA PORTAL A L'ART – Calpe – Spain
04/06 / 2013-17 / 06/2013 «LIFE AND COLORS» – Salduba Grupo Escolà Art Gallery, c / Madre Vedruna, 5 – Zaragoza -Spain Opening and vernissage Tuesday 4 at 19:30 (individual)
01/15/2013 – 01/28/2013 «LA VIDA I ELS COLORS» – Galeria d'Art Mar – Grup Escolà – Barcelona (individual).
05/11/2012 – 05/13/2012 I will be at the HUNTEN KUNST Art Fair, Holland. (see more here)
11/22/2011 «MY DEAR SPAIN» – Municipal Museum of Nazarovo / Siberia.
09/15 / 2011-10 / 11 / 2011- "INSTANS" Amb Gal-ART i Baladia – (individual)
08/27/2011 – 08/28/2011. Fair, «ARTS AND ANTIQUES EVENT OF THE HAGUE» The Hague – Holland.
08/13/2011, Municipal Museum of Nazarovo / Siberia. see more here
08/10/2011 – 08/30/2011 GALART- Mataró (Collective)
08-09-2011 – "Spain – Siberia" Headquarters of the Federation of Visual and Plastic Artists of Krasnoyarsk.
On the occasion of the Year of Spain in Russia, cultural events dedicated to Spain are held in various parts of the country. I was invited by the Minister of Art and Culture of the Federal State of Krasnoyarsk, in collaboration with the Union of Artists of Russia, Krasnoyarsk Section and by José S. Ocón curator to represent contemporary Spanish painting with 8 other colleagues See more Here
14-23 / 12/2010 – HOTEL DON CARLO – ArtCo – TERRASSA (collective)
10-14 / 11/2010 – Fiarte, Art fair in Santo Domingo, Dominican Republic. Stand FLAMINGO ROAD GALLERY
10/16/2010 – 01/15/2011 – «PEOPLE AND THEIR EVERYDAY LIFE» Kunst Atelier-Galerie KONTRASTE. An der Kirche, 1 Erwitte-Horn, Westfalia- GERMANY,
01/07 / 2010-31 / 07/2010 – CLUB NAUTICO BARCELONA Pge. Joan de Borbo, 93 BARCELONA, SPAIN (collective).
06/11/2010 – 07/31/2010 – EXPOMUNDIAL 2010 – Flamingo Road Galery – BOGOTA, COLOMBIA
04/18/10 – 04/21/10- BARCELONA ART Fair, ADNEC- Abu Dhabi, Conference Hall B, ABU DHABI- ARAB EMIRATES. To see more Click HERE
11/16/09 – 12/31/09 – FLAMINGO ROAD GALLERY, Avda. February 27, nº 339 Evaristo Morales SANTO DOMINGO, RD
06/30/2009 – 08-30-2009 – CAL BOSQUER, CARDEDEU (Collective)
04/23/2009 – 05/07/2009 – GALLERY ART 22 C / Anselm Clavé 17001 GIRONA (Collective)
03/11/2009 – BALMES BASSOLS GALLERY C / Balmes 178 Barcelona
09/11/2008 – 09/27/2008 SPACE OF ART GALLERY (Collective) "Artists of On Line Workshop II" (Olías del Rey)
07/06 / 2008-30 / 06/2008 GALLERY SANT POL ART (Sant Pol de mar) (individual).
01/17/2008 – 02/02/2008 ART SPACE GALLERY – Olías del Rey (Individual)
11/15/2007- 12/8/2007 ESPACIO DE ARTE GALLERY (Collective) "On Line Workshop Artists" (Olías del Rey)
06/08/07 – 06/19/2007 ENLLEURAT (Mataro)
06/01/05 – 06/30/05 MIRARTE GALLERY Burjassot (Valencia) (Individual)
01/20/2005 – 02/16/2005 «LA CAIXA» Avda. El Paral.le.l BARCELONA (Individual)
01/20/05 – 01/24/05 «ARTE CUADRO» FAIR Andreu Art Stand (MADRID)
01/14/2005 – 02/07/2005 ANDREU-ART Miami Playa GALLERY (TARRAGONA) (Collective, mercat d'art)
04/12 / 2004-07 / 01/2005 ANDREU-ART Miami Playa GALLERY (TARRAGONA) (Collective)
6/11 / 2004-27-11 / 2004 CAJA DUERO ZAMORA (Collective)
09/10 / 2004-20 / 10/2004 SANTA CATARINA PORTUGAL GALLERY «Emoçao de Pintura» Exhibition integrated in the «interculturalidade» project EGUAL community program Intervention in the «multiculturalidade» field (collective)
09/30 / 04-03 / 10/04 FAIM Madrid Independent Art Fair Pabellon de la Pipa, Casa de Campo Fairgrounds in Madrid (Avda. Portugal s / n 28011 MADRID)
09/17 / 04-18 / 10/04 "SANT LLUC" ROOM ATENEU CAIXA LAIETANA (Collective)
Mataró – BARCELONA
08/07/2004 – 08/28/2004 REPRESENTARTE BARCELONA GALLERY (Collective)
08/06/04 – 09/02/04 UNIVERSIDAD AUTONOMA DE AGUASCALIENTES MEXICO (Collective)
08/02/2004 – 08/19/2004 SALA SMATA «European and American Artists for Peace» Buenos Aires ARGENTINA (Collective)
12/06 / 2004-15 / 07/2004 CASTLE OF SANTA ANA Roquetas de Mar ALMERIA. (Collective)
05/14/04 – 06/01/04 BARNA BARCELONA ROOM (Collective)
05/14 / 04-29 / 05/2004 CAJA DUERO ÁVILA (Collective)
07 // 05/04 – 30/05/04 SALA DEL CASAL ALIANÇA «Els Nus del Racó» Mataró – BARCELONA (Collective)
30th International Book Fair, FROM THE AUTHOR TO THE READER on April 26th. Y
Exhibition (from 4/13 to 5/9) of works in the Julio A. Cortázar Room. Buenos Aires ARGENTINA (Collective)
04/06 / 04-30 / 04/04 LOS LAVADEROS Sta.Cruz

diploma a la excelencia 2017 proarte y cultura