Pintor irlandés premiado internacionalmente representado por galerías en Irlanda y Nueva York. Seleccionado para espectáculos con jurado en Irlanda, Roma, Florida, Nueva York, Budapest y Sydney.
Me gusta llamar a mi trabajo un 'lenguaje secreto del corazón', es de atmósfera etérea y tiene una cualidad mística, mis temas pueden variar desde muchas influencias religiosas, míticas, esotéricas, etc., y mi estilo fusiona muchos métodos de lentos pintura de estilo clásico contrastada con una expresión lúdica libre. Las obras tienen un fuerte sentido enigmático y hay una cualidad visionaria en mi trabajo, son únicas en color, me gusta trabajar principalmente en óleos y pan de oro.

  Internationally awarded Irish painter represented by galleries in Ireland and New York. Selected for juried shows in Ireland,Rome,Florida,New York, Budapest and Sydney.
'I like to call my work a 'secret language of the Heart'.It is ethereal in atmosphere and it has a mystical quality.My subjects can range from many influences religious, mythical, esoteric etc.and my style fuses many methods from slow classical style painting contrasted with free playful expression. The works have a strong enigmatic sense and there is a visionary quality to my work.They are unique in colour.I like to work mainly in oils and gold leaf.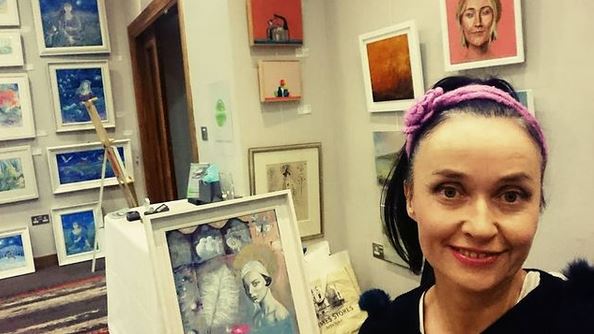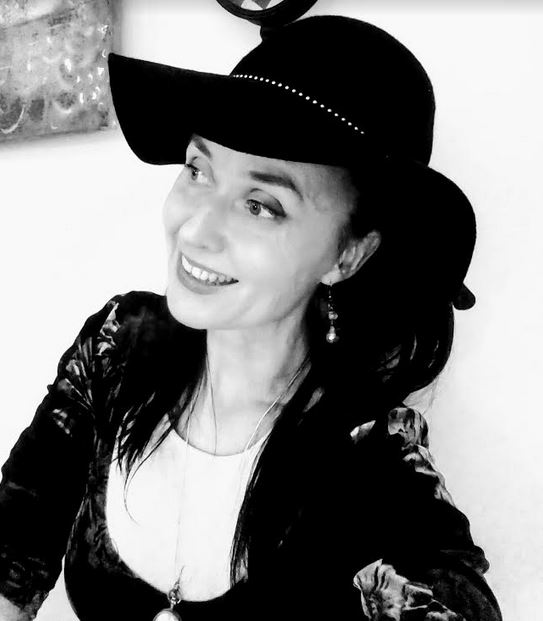 www.dagaro-group.gallery/martina-mcateer

He estado representado por muchas galerías de prestigio y seleccionado para exposiciones en Irlanda, Estados Unidos y Hungría. Hay una cualidad maravillosa, etérea y onírica en mi expresión que está llena de magia, intriga y espíritu. Me gusta llamar a mi trabajo un lenguaje secreto del corazón y ahí radica su propósito y quizás elemento curativo de alguna manera. Después de un grave accidente de tránsito en la República Checa, descubrí que la pintura era una gran ayuda para mi propia curación. " El arte cura dando voz al alma ".
Martina es una artista irlandesa galardonada que vive en Co. Wexford. Ha sido representada por muchas galerías de prestigio a nivel nacional e internacional y ha ganado numerosos premios;
Seleccionado para la exposición de arte del Libro Guinness de los récords en Roma
Celebrando el genio de las mujeres homenajeadas en Florida.
Premio People's Choice 'Pen and Brush inc.' Nueva York.
Premio Europa de Arte Espiritual y Fantástico.
Ganador del concurso de pintura Gateway International
Seleccionado para el jurado espectáculo 'Herland II' Sydney, Australia 2020
Trabaja en un pequeño estudio llamado The Magpie Studio y tiende a pintar principalmente con pintura al óleo y pan de oro. Le encanta la delicadeza y la preciosidad del pan de oro, pero lo usa de una manera muy libre.
Hay muchos contrastes en su trabajo y, a menudo, fusiona la pintura metódica lenta con la pintura libre y lúdica. Por lo tanto, la obra a menudo puede tener un aire solemne, pero también puede contener un ligero espíritu poético, libre y esperanzador.
La obra de Martina contiene casi un lenguaje secreto del corazón y tiene un impacto emocional muy poderoso en el espectador.

I have been represented by many prestigious galleries and selected for shows in Ireland, U.S. and Hungary. There is a wonderful, ethereal and dreamlike quality in my expression which is full of magic, intrigue and spirit.
I like to call my work a secret language of the heart and therein lies it's purpose and perhaps healing element in some way.Following a serious road traffic accident in the Czech Republic, I found painting to be a great aid to my own healing. I like to explore with paint, carving and layering it, removing and adding to it playfully until I reach that 'eureka' epiphany moment when the essence of the work reveals itself.It is a great joy to be able to create like this and "Art heals by giving voice to the soul".
Martina is an award winning Irish Artist who lives in Co. Wexford. She has been represented by many prestigious galleries nationally and internationally and has won numerous awards;
Selected for Guinness Book of records art exhibition in Rome
Celebrating the genius of Women honouree in Florida.
People's Choice Award 'Pen and Brush inc.' New York.
Spiritual and Fantasy Art Europe Award.
Winner in the Gateway International painting competition
Selected for Juried show 'Herland II' Sydney, Australia 2020
She works in a small studio called The Magpie Studio and tends to paint mostly with oil paint and gold leaf. She loves the delicacy and preciousness of gold leaf but uses it in a very free way.
There are many contrasts in her work and she will often fuse slow methodical painting with free playful painting. The work therefore can often have a solemn feel to it yet then also contain a light free hopeful poetic spirit.
Martina's work contains almost a secret language of the heart and they have a very powerful emotional impact on the viewer.