Escultor establecido en las Islas Baleares – Palma de Mallorca – España. Estudió en la Academia Popular de Arte de Temesburg.
Trabaja con diversos materiales entre ellos diferentes metales, resinas, maderas, etc, utilizando técnicas del arte vanguardista.
David Dagaro , bajo el nombre artístico de Dagaro, trabaja sus obras moldeándolas con hilos de acero, que posteriormente une entre sí; una vez finalizado este proceso, funde su obra en bronce y ocasionalmente en plata. Creando maravillosas esculturas dignas de admiración.

  Sculptor established in the Balearic Islands – Palma de Mallorca – Spain. He studied at the Temesburg People's Academy of Art.
He works with various materials including different metals, resins, woods, etc., using avant-garde art techniques.
David Dagaro, under the stage name Dagaro, works on his works, molding them with steel threads, which he later joins together; once this process is complete, he casts his work in bronze and occasionally in silver. He creating wonderful sculptures worthy of admiration.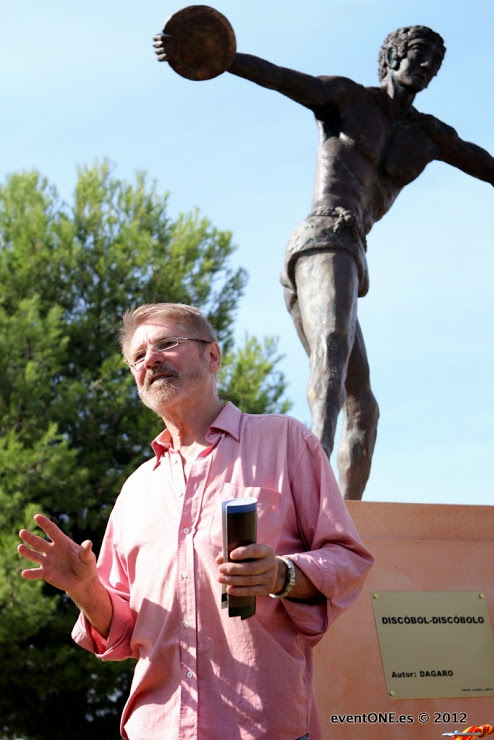 www.dagaro-group.gallery/david-dagaro
Awards / Premios
Padova – Premio Lorenzo di Medici 2015
Padova – Primer premio absoluto C.A.T.S Feria internacional de arte contemporanea 2016
Premio – Il profume del Arte 2016
Premio – Arcimbolo attestado di merito 2016
Premio – Por excelencia Pro Arte y Cultura – Maite Espinola 2016
Premio – Leonardo da Vinci artista interncionale Firenze 2017
Premio – Interncaional Art prize Rafaello Bologna 2018

Museo de arte contemporana – Chicago
Museo de arte moderna y contemporana – Austria, Gmund
Museo de arte contemporana Marmolejo – Espana
Museo de arta moderna Mayte Spinola – Espana
Nacio 1941 en Siebenbürgen , Kreis Klausenburg
1955 – 1958 — Escuela profesional de arte metalurgica
1958 – 1963 — Estudios y practicas en Metaloplastia (Diseno,Modelacion,formas,Fundicion)
1964 – 1970 — Practicas en arte escultorica, Madera, Piedra, Metales Nobles
1971 – 1987 — Huie en Alemania Federal
1972 – 1987 — Practicas en diversos atelleres en alemania Federal
1987 – ahora — Traslada su taller en Peguera, Mallorca-Baleares
Exhibition / Exposiciones
1976 – Schweiz Expo en la galeria Du Monai
1977 – Alemania, Freiburg Expo en Schwarze Kloster
1979 – Swizera, Zürich Expo Galeria Wenzel
1980 – Francia, Toulose Feria internacional de arte
1982 – USA , Chicago Atlas Galery
1983 – USA, Los angeles Beverly Hills
1986 – USA, Maiami Feria internacional de arte
1990 – España, Palma de Mallorca Expo centro cultural Balear
1992 – España, Palma de Mallorca Expo Galeria Rock Nimve – centro 'Los Geranios'
1994 – España, Pollensa – Mallorca Expo Galeria LLompart
1995 – Alemania, Kreis Schwerte Expo colectiva UNA
1995 – Alemania, Ludwigsburg Expo Kunstverein Ludwigsburg
1997 – Neanderland, Amsterdam Exposición Colectiva
1999 – España, Palma de Mallorca Galeria Belartico
2000 – España, Palma de Mallorca Expo colectiva Por amor al art
2002 – Netherlands, Amsterdam Expo Collection privada
2004 – España, Mallorca Expo Casino de mallorca (olimpiada intern. de Ajedrez)
2005 – España, Palma de Mallorca Expo Master art Gallery
2006 – España, Palma de Mallorca Expo Consell de mallorca Palazo Balanguer
2007 – España, Paguera – Mallorca Comemora el monumento Trobada del Cristo
2009 – España, Palma de Mallorca Expo Master art Gallery
2011 – Belgica, Antwerpen Expo Leonard Gallery
2012 – España, Palma Nova – Mallorca Inaugura el Monumento "el DISCOBOLO "
2012 – Ploiesti, Expo en el Museo de Arte Jonescu Quintus
2012 – Sinaia, Expo Castelo Peles
2013 – Romania, Peles Dagaro Restituiri – Muzeul National Peles
2014 – Romania, Bukarest Museo Nacional de arte Dimitrie Gusti
2015 – Francia, Paris Louvre, Le Carrousel Du Louvre Paris
2015 – Italia, MantovaPremio Mantov'Art "Star 2015″
2015 -Italia, Padova Feria Internacional de Arte Padova, Queenart Gallery
2016 – Italia, Milano Feria de Arte Milano Via mecenate
2017 – España, Barcelona Feria de arte B C N International Art Fair
2018 – Austria, Innsbruck International Art Fair Innsbruck Austria
2018 – Italia, Vatican Roma Expo Vatican, Palazo de Cancelaria
2018 – Italia, Turino Museo Mitt – Museo Internacional Italia Arte
2018 – Italia, Roma 1. Bienal Itinerante Internacional de Arte
2019 – Barcelona, Galeria Carmen Ruiz – Skygalerie
2020 – Venezia, Liquid Group
2021 – Viena, Schloss Hubertendorf – MAMAG Museum