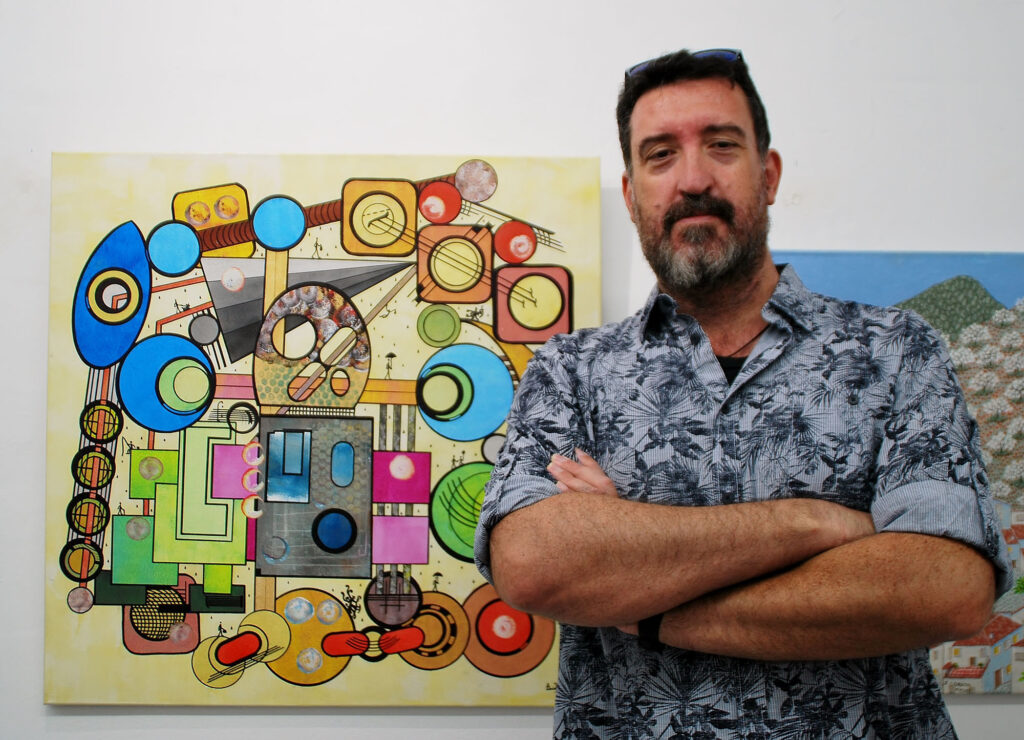 www.dagaro-group.gallery/a-j-simon

Pintor autodidacta, nacido en Málaga en 1973. Comienza a pintar por primera vez en agosto de 2.011 y a exponer en diciembre de 2.014.
En estos 6 últimos años sus logros son:
Ha recibido la Medalla de Oro de las Artes, concedida por la Academia Malagueña de las Artes y las Letras.
Ha realizado 7 exposiciones individuales (Turismo Andaluz, Colegio de Abogados, Colegio de Médicos, Colegio de Veterinarios, Cochera Cabaret, Facultad de Derecho, Colegio de Dentistas)
Ha participado hasta el día de hoy en 41 exposiciones colectivas (Álora, Archidona, Benamocarra, Casabermeja, Comares, Islas Canarias, Madrid, Málaga capital, Medina Sidonia, Mijas, Mijas Costa, Moclinejo, Riogordo, Tolox, Torremolinos y Totalán)
1 exposición virtual en New York "Volando entre formas y colores" con más de 5.000 visualizaciones en youtube
Sus cuadros aparecen en una decena de catálogos de arte.
Ha realizado una exposición permanente durante 6 meses de una de sus obras en el plató de PTV televisión Málaga
Ha sido seleccionado en las exposiciones de los 8 certámenes en los que ha concursado
. Certamen Pintura Contemporánea de Torremolinos
. Certamen pintura Contemporánea de Benamocarra
. Certamen de pintura Evaristo Guerra…( 6 últimas ediciones)
Ha colaborado solidariamente con varias asociaciones:
. Adimi
. ONG Kukua
. Diabetes 0
. Sueño Dulce
Creador y coordinador de los 5 calendarios solidarios "12 meses, 12 artistas"
Ha participado como artista invitado en programas de Tv y radio.
Ha colaborado literariamente con una reseña en el libro de Chus Pineda Matamala "Broche de oro a una carrera artística" del Proyecto Nacional de Cultura de Granada Costa.
Guionista y director de obras teatrales para niños

Self-taught painter, born in Malaga in 1973. He began painting for the first time in August 2.011 and exhibiting in December 2.014.
In these last 6 years his achievements are:
He has received the Gold Medal for the Arts, awarded by the Malagueña Academy of Arts and Letters.
He has made 7 individual exhibitions (Andalusian Tourism, College of Lawyers, College of Physicians, College of Veterinarians, Cabaret Garage, School of Law, College of Dentists)
He has participated to date in 41 group exhibitions (Álora, Archidona, Benamocarra, Casabermeja, Comares, Canary Islands, Madrid, Malaga capital, Medina Sidonia, Mijas, Mijas Costa, Moclinejo, Riogordo, Tolox, Torremolinos and Totalán)
1 virtual exhibition in New York "Flying between shapes and colors" with more than 5,000 views on YouTube
His paintings appear in a dozen art catalogs.
He has made a permanent exhibition for 6 months of one of his works on the set of PTV Televisión Málaga
He has been selected in the exhibitions of the 8 competitions in which he has competed
. Contemporary Painting Contest of Torremolinos
. Benamocarra Contemporary Painting Contest
. Evaristo Guerra painting contest… (last 6 editions)
He has collaborated in solidarity with several associations:
. Adimi
. NGO Kukua
. Diabetes 0
. Sweet dream
Creator and coordinator of the 5 solidarity calendars "12 months, 12 artists"
He has participated as a guest artist on TV and radio programs.
He has collaborated with a literary review in Chus Pineda Matamala's book "Golden Broche for an Artistic Career" of the National Project of Culture of Granada Costa.
Screenwriter and director of plays for children

  A. J. Simón "Visiones de un soñador"
"La obra del pintor A. J. Simón, cuyo sello identificativo, sin duda, es la variedad de colores y la pluralidad de los trazos técnicos, es como viajar a lo más íntimo de nuestro ser. A través de sus formas geométricas y combinaciones dignas de escudriñar con detenimiento, logra transportarnos a un mundo interior lleno de matices, emociones y sueños…"
Antonio García Pereyra (Escritor, Poeta, Gestor cultural y Corrector literario)
"La diferencia estriba en que este artista les da vida a esos trazos. De eso te das cuenta cuando te paras delante de uno de sus cuadros, el que sea, y dejas de mirarlo y comienzas a observarlo. Es entonces cuando comprendes la auténtica dimensión de lo que estas viendo. Empiezas a percibir la pasión de su autor, ya que cada pieza ha sido puesta en su sitio justo…"
Cristóbal Romero (Escritor)
"La obra de A. J. Simón nos muestra la grandeza de lo simple, composiciones geométricas muy subjetivas que aunque parecen alejarse de lo emocional, el alma del artista se abre paso estrepitosamente frente a la razón o a los convencionalismos establecidos, pudiéndose denotar un marcado proceso de modernización en su obra, con una fuerza rítmica…"
Diego Ceano (Artista y Presidente Academia Malagueña de las Artes y las Letras)
"Verle y comprobar su estilo artístico, su forma de expresarse, de actuar…es un dos en uno. Su estilo geométrico y su forma de expresarlo lo dicen todo: cabal, lógico, cargado de principios y esto en un mundo tan variopinto como es el mundo artístico en el que la mayoría alardea de su alma artística y su genialidad. A. J. Simón simplemente es real…y verle y sentirle avanzar en su arte, sin pisar a nadie…"
Jesús Pineda Matamala (Artista y Fundador de la Casa Museo Amapola)

  A. J. Simón "Visions of a dreamer"
"The work of the painter A. J. Simón, whose identifying hallmark, without a doubt, is the variety of colors and the plurality of technical lines, is like traveling to the most intimate part of our being. Through its geometric shapes and combinations worthy of scrutinizing carefully, he manages to transport us to an inner world full of nuances, emotions and dreams … "
Antonio García Pereyra (Writer, Poet, Cultural Manager and Literary Editor)
"The difference is that this artist brings those lines to life. You realize that when you stop in front of one of his paintings, whatever it is, and you stop looking at it and begin to observe it. It is then that you understand the true dimension of what you are seeing. You begin to perceive the passion of its author, since each piece has been put in its right place … "
Cristóbal Romero (Writer)
"The work of AJ Simón shows us the greatness of simplicity, very subjective geometric compositions that, although they seem to move away from the emotional, the artist's soul makes a resounding way in front of reason or established conventions, being able to denote a marked process of modernization in his work, with a rhythmic force … "
Diego Ceano (Artist and President of the Malagueña Academy of Arts and Letters)
"Seeing him and checking his artistic style, his way of expressing himself, of acting… is a two in one. His geometric style and his way of expressing it say it all: thorough, logical, loaded with principles and this in a world as diverse as the artistic world in which the majority boast of their artistic soul and their genius. A. J. Simón is simply real … and to see him and feel him advance in his art, without stepping on anyone … "
Jesús Pineda Matamala (Artist and Founder of the Amapola House Museum)