Ariella ha estado dibujando desde los 4 años y se formó como artista, pero en su 30 cumpleaños decidió dar el salto y hacer del arte su empeño profesional.
Inspirándose en la naturaleza, la geometría y el movimiento, las vibrantes obras de arte de Ariella lidian con los frágiles y delicados equilibrios de la vida. Están informados por las tensiones entre unidad y fragmentación, momento y movimiento, real e imaginado. En cierto modo, busca pintar lo inasible: la energía, el tiempo y la conectividad de todas las formas. El dicho de Pablo Picasso, "el arte es una mentira que nos hace darnos cuenta de la verdad", resuena profundamente en ella.
A Ariella le apasiona utilizar el arte para crear conciencia sobre la sostenibilidad; Aparte de la pintura acrílica y los lápices de colores, ha estado encontrando formas innovadoras de utilizar telas desechadas para crear arte sostenible y sin desperdicios. También dona una parte de las ventas de sus obras de arte de animales en peligro de extinción a los esfuerzos de conservación.
Ariella nació y se crió originalmente en Boston, EE. UU., Y hoy vive junto al mar en Tel Aviv, Israel.

  Ariella has been drawing since age 4 and trained as an artist, but on her 30th birthday, decided to take the leap and make art her professional endeavor.
Drawing inspiration from nature, geometry and movement, Ariella's vibrant artworks grapple with the fragile and delicate balances in life. They are informed by tensions between unity and fragmentation, moment and movement, real and imagined. In a way, she seeks to paint the ungraspable – energy, time, and the connectivity of all forms. Pablo Picasso's saying, "art is a lie that makes us realize truth," resonates deeply with her.
Ariella is passionate about using art to raise awareness about sustainability; Aside from acrylic paint and colored pencils, she has been finding innovative ways to use discarded fabric to create sustainable, zero-waste-art. She also donates a portion of the sales from her artwork of endangered animals to conservation efforts.
Ariella was originally born and raised in Boston, USA, and today lives by the sea in Tel Aviv, Israel.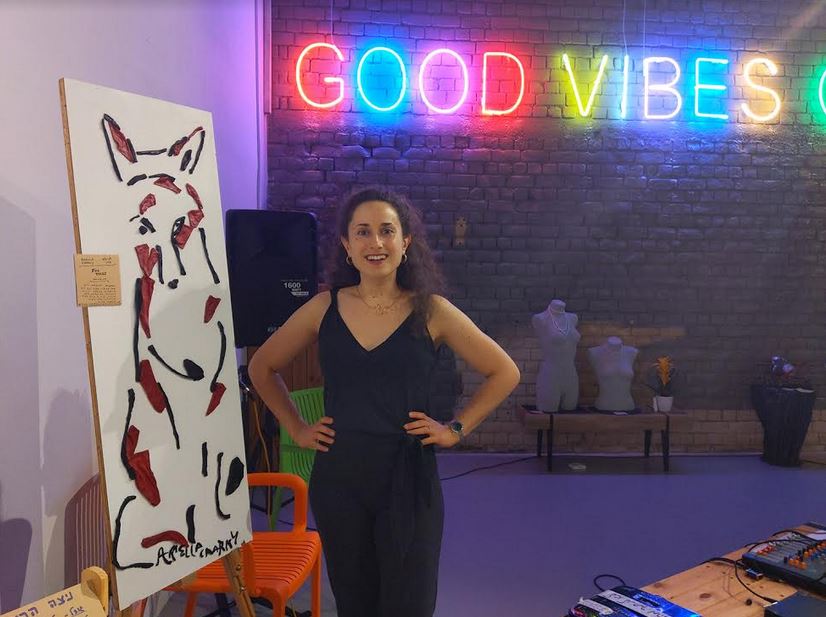 www.dagaro-group.gallery/ariella-charny

10 años de estudio intensivo de pintura y dibujo con el artista Aleksei Naumovich Neimanin en Boston, EE. UU. (2003-2013)
LICENCIADO EN LETRAS. en Relaciones Internacionales, Economía y Artes de Estudio (menor) de la Universidad de Tufts (2012)
Certificado de Diseño Gráfico de la Escuela de Arte Camera Obscura en Tel Aviv, Israel (2013)

10 years of intensive painting and drawing study under artist Aleksei Naumovich Neimanin in Boston, USA (2003-2013)
B.A. in International Relations, Economics & Studio Arts (minor) from Tufts University (2012)
Graphic Design Certificate from the Camera Obscura School of Art in Tel Aviv, Israel (2013)

Hasta la exhibición de arte y sostenibilidad de EE. UU. En el puerto de Tel Aviv, en cooperación con el municipio de Tel Aviv, septiembre de 2020
Techstars Tel Aviv Startup Demo Day, 2020

Up to US Art and Sustainability Exhibit on the Tel Aviv Port, in cooperation with the Tel Aviv Municipality, September 2020
Techstars Tel Aviv Startup Demo Day, 2020

Obra finalista para cartel SICAB, salon internacional del Caballo en España.

Obra finalista para cartel SICAB, salon internacional del Caballo en España.